Steam Inhalers
Steam Inhaler is a personal and friendly equipment for every home and travel, which produces, steam vapours within seconds.
Plastic Urine Pot 2 in 1
The quality 2 in 1 Urine Pots, which we are manufacturing is carved out of the best quality raw material and can be easily autoclaved. Our products can be customized in accordance with the needs and requirements of our clients. These can hygienically be used in hospital wards and various other patient areas.
Features
Item Code: PUP2I105
Port of Dispatch: Delhi
Production Capacity: 2000
Delivery Time: 2-3 Days
Packaging Details: Single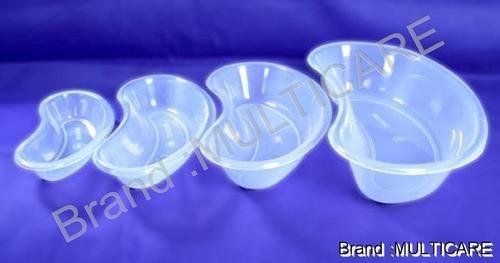 Plastic Kidney Trays
We are one of the prominent manufacturers and suppliers of Kidney Trays, which are fabricated out of high quality stainless steel. These can be availed from us in sizes ranging from 6" to 12", whatever is best suited for the use of our clients. Before our products are dispatched to our client's destination, we quality check our products stringently.
Douche Can
The range of Douche Can Sets that we are manufacturing are fabricated using the best quality raw material and thus ensure optimum efficiency. Our products are user friendly and are very hygienic and fit for all hospital applications. We can also tailor make our products according to the demands and requirements of our clients.
Plastic Bed Pan
We are one of the leading manufacturers and suppliers of Plastic Bedpan, which is fabricated using the optimum quality HDPE material. These are precision engineered by our experts to facilitate our clients the best possible way. Our products have side caps, which makes it easy to wash.